Hyundai cars all models in India
Please find below specifications and prices of all new models of Hyundai cars in India. Hyundai has a full range of cars in India: Some Hyndai car models are the cheapest new cars in India and they have expensive cars as well. Recently Hyundai has announced that they will be introducing into India their premium Hundai Genesis models. For convenience we have clickable links just below, to take you directly to the specs and price of the new Hyundai car model in India you click on.
This page is an old version from 2016. Will be updated soon.
Starting price of Hyundai cars in India
The on-road starting price of Hyundai cars in India shown here are accurate for Delhi at the time of writing this. The taxes can change any time, and taxes in other States of India will most probably be slighltly higher, so use these prices only for budget purposes.
Hyundai also publish their ex-shoroom prices on Hyundai's website. Visiting this website can help in finding the authorised dealer for Hyundai cars in your city and the published showroom price for your city in India.
Hyundai Eon price specification and features in India
Hyundai Eon
Hyundai Eon base model price
Petrol: From ₹3,19,000-
Diesel: Not Available
LPG: From ₹3,59,000-
Hyundai Eon Engine options:

Petrol 814cc 3cyl 55HP or 998cc 3cyl 68HP ((Magna+ 1L Kappa)

Dimensions in Meters:

Length=3.495, Width=1.550, Height=1.500

Wheelbase and Ground clearance in mm:

2700 and 167

Hyundai Eon Fuel Economy, Km per Litre:

21.1 (0.8L) or 20.3 (1L)

Hyundai Eon Automatic Gear available?

No

Hyundai Eon Speed, Acceleration 0 to 100 KPH seconds:

17.6 (0.8L) or 15.05 (1L)

Hyundai Eon Tyres Size:

145/80 R12 or 155/70 R13

Hyundai Eon website:

Hyundai Eon review on Youtube:

Hyundai Eon review Team BHP forum:
Hyundai Santro new models in India
Hyundai Santro Xing
Hyundai Santro base model price
Petrol: From ₹4,03,000-
Diesel: Not Available
LPG: From ₹4,23,000-
Hyundai Santro Engine options:

Petrol 1086cc 4cyl 63HP

Dimensions in Meters:

Length=3.565, Width=1.1525, Height=1.590

Wheelbase and Ground clearance in mm:

2380 and 164

Hyundai Santro Fuel Economy, Km per Litre:

16.76

Hyundai Santro Automatic Gear available?

yes

Hyundai Santro Speed, Acceleration 0 to 100 KPH seconds:

15.29

Hyundai Santro Tyres Size:

155/70 R13

Hyundai Santro Xing website:

Hyundai Santro Xing review Team BHP forum:
Hyundai i10 new model price and specs in India
Hyundai i10
Hyundai i10 base model price
Petrol: From ₹4,38,000-
Diesel: Not Available
LPG: From ₹4,50,000-
Hyundai i10 Engine options:

Petrol 1086cc 4cyl 68HP

Dimensions in Meters:

Length=3.585, Width=1.1595, Height=1.550

Wheelbase and Ground clearance in mm:

2380 and 164

Hyundai i10 Fuel Economy, Km per Litre:

19.81

Hyundai i10 Automatic Gear available?

No

Hyundai i10 Speed, Acceleration 0 to 100 KPH seconds:

15.55

Hyundai i10 Tyres Size:

155/80 R13

Hyundai i10 official website:

Hyundai i10 review on Youtube:

Hyundai i10 review Team BHP forum:
Hyundai Grand i10 price and specs in India
Hyundai Grand i10
Hyundai Grand i10 starting price
starting price Hyundai elantra Petrol: From ₹4,88,000-
Diesel: From ₹5,92,000-
LPG: From ₹4,93,000-
Hyundai Grand i10 Engine options:

Petrol 11197cc 4cyl 81.8 HP or Diesel 1120cc 4 cyl 70 HP

Dimensions in Meters:

Length=3.765, Width=1.1660, Height=1.520

Wheelbase and Ground clearance in mm:

2425 and 165

Hyundai Grand i10 Fuel Economy, Km per Litre:

Petrol 19.5 or Diesel 24.5

Hyundai Grand i10 Automatic Gear available?

Yes

Hyundai Grand i10 Speed, Acceleration 0 to 100 KPH seconds:

Petrol 13.4 or Diesel 20.25

Hyundai Grand i10 Tyres Size:

165/65 R14

Hyundai Grand i10 official website:

Hyundai Grand i10 review on Youtube:

Hyundai Grand i10 review on Team BHP forum:
Hyundai new car Xcent in India models and price
Hyundai Xcent
Hyundai Xcent base model price
Petrol: From ₹5,21,000-
Diesel: From ₹6,27,000-
LPG: Not Available
Hyundai Xcent Engine options:

Petrol 11197cc 4cyl 81.8 HP or Diesel 1120cc 4 cyl 71 HP

Dimensions in Meters:

Length=3.995, Width=1.1660, Height=1.520

Wheelbase and Ground clearance in mm:

2425 and 165

Fuel Economy, Km per Litre:

Petrol 19.1 or Diesel 24.4

Hyundai Xcent Automatic Gear available?

Yes

Hyundai Xcent Speed, Acceleration 0 to 100 KPH seconds:

Petrol 14.23 or Diesel 18.61

Hyundai Xcent Tyres Size:

165/65 R14

Hyundai Xcent website:

Hyundai Xcent review on Youtube:

Hyundai Xcent review on Team BHP forum:
Hyundai i20 new model price and specs in India
Hyundai i20
Hyundai i20 base model price
Petrol: From ₹5,39,000-
Diesel: From ₹6,97,000-
LPG: Not Available
Hyundai i20 Engine options:

Petrol 1197cc 4cyl 82 HP or Diesel 1396cc 4 cyl 89 HP

Dimensions in Meters:

Length=3.985, Width=1.734, Height=1.505

Wheelbase and Ground clearance in mm:

2570 and 170

Hyundai i20 Fuel Economy, Km per Litre:

Petrol 17.3 or Diesel 20.6

Hyundai i20 Automatic Gear available?

Yes

Hyundai i20 Speed, Acceleration 0 to 100 KPH seconds:

Petrol 13.36 or Diesel 13.4

Hyundai i20 Tyres Size:

185/70 R14

Hyundai i20 website:

Hyundai i20 review on Youtube:

Hyundai i20 review on Team BHP forum:
Hyundai Verna new models in India
Hyundai Verna
Starting price Hyundai Verna
Starting price of Hyundai Verna
Petrol: From ₹8,29,000-
Diesel: From ₹9,54,000-
LPG: Not Available
Hyundai Verna Engine options:

Petrol 1396cc (1.4L) 4cyl 105.5 HP or Petrol 1591cc (1.6L) 4cyl 121.3 HP or Diesel 1396cc (1.4L) 4 cyl 88 HP or Diesel 1582cc (1.6L) 4 cyl 126.2 HP

Dimensions in Meters:

Length=3.985, Width=1.700, Height=1.475

Wheelbase and Ground clearance in mm:

2570 and 162

Hyundai Verna Fuel Economy, Km per Litre:

Petrol 17.43 (1.4L) or Diesel 23.5 (1.4L)

Hyundai Verna Automatic Gear available?

Yes

Hyundai Verna Speed, Acceleration 0 to 100 KPH seconds:

Petrol 13.15 (1.4L) or 11.93 (1.6) or Diesel 13.4 (1.4L) or 10.62 (1.6)

Hyundai Verna Tyres Size:

185/65 R15 or 195/55 R16

Hyundai Verna website:

Hyundai Verna review on Youtube:

Hyundai Verna review on Team BHP forum:
New Hyundai Elantra models and price in India
Hyundai Elantra
Starting price Hyundai Elantra
Petrol: From ₹12,83,000-
Diesel: From ₹15,59,000-
LPG: Not available
Hyundai Elantra Engine options:

Petrol 1797cc 4cyl 148HP or Diesel 1582cc 4 cyl 126 HP

Dimensions in Meters:

Length=4.530, Width=1.775, Height=1.470

Wheelbase and Ground clearance in mm:

2700 and 167

Hyundai Elantra Fuel Economy, Km per Litre:

Petrol 17.3 (1.4L) or Diesel 20.6 (1.4L)

Hyundai Elantra Automatic Gear available?

Yes

Hyundai Elantra Speed, Acceleration 0 to 100 KPH seconds:

Petrol 14.4 or Diesel 17

Hyundai Elantra Tyres Size:

205/60 R16

Hyundai Elantra website:

Hyundai Elantra review on Youtube:

Hyundai Elantra review on Team BHP forum:
New Hyundai Sonata Sedan models and price in India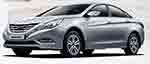 Hyundai Sonata
Starting price Hyundai Sonata
Petrol: From ₹18,70,000-
Diesel: Not available
LPG: Not available
Hyundai Sonata Engine options:

Petrol 2395cc 4cyl 198HP

Dimensions in Meters:

Length=4.820, Width=1.835, Height=1.490

Wheelbase and Ground clearance in mm:

2795 and 155

Fuel Economy, Km per Litre:

11.5

Hyundai Sonata Automatic Gear available?

Yes

Hyundai Sonata Speed, Acceleration 0 to 100 KPH seconds:

9.43

Hyundai Sonata Tyres Size:

215/55 R17

Hyundai Sonata website:

Hyundai Sonata review on Youtube:

Hyundai Sonata review on Team BHP forum:
Hyundai new SUV Santa Fe models in India
Hyundai Santa Fe SUV
Starting price Hyundai Santa Fe SUV
Petrol: Not available
Diesel: From ₹29,71,000-
LPG: Not available
Hyundai Santa Fe Engine options:

Diesel 2199cc 4cyl 194HP

Dimensions in Meters:

Length=4.690, Width=1.880, Height=1.690

Wheelbase and Ground clearance in mm:

2700 and 185

Hyundai Santa Fe Fuel Economy, Km per Litre:

14.66

Hyundai Santa Fe Automatic Gear available?

Yes

Hyundai Santa Fe Speed, Acceleration 0 to 100 KPH seconds:

11.1

Hyundai Santa Fe Tyres Size:

235/60 R18

Hyundai Sonata website:

Hyundai SUV Santa Fe review on Youtube:

Hyundai Santa Fe review on Team BHP forum: