Rolls Royce car models and prices in India
What makes Rolls Royce cars so special is its history as 'The best car in the world' and the aura of it being the most expensive car in the world. Rolls Royce cars are not assembled on an assembly line like the ususal mass produced cars. Each individual Rolls Royce car is specially assembled using a lot of manual labour and this gives each Rolls Royce car an induviduality.
This page is an old version from 2016. Will be updated soon.
Below we have a video on how a Rolls Royce car is made with more individual manual hand crafted work in this age of automation
Video: Why Rolls-Royce Cars Are So Expensive?
Rolls Royce cars are usually very reluctant to publish a price list. So the best way to know the prices of Rolls Royce cars is to contact their showrooms.
Rolls Royce India showrooms are in New Delhi and Mumbai. The Rolls Royce New Delhi showroom address is A-19, Mohan Co-operative Industrial Estate, Mathura Road, New Delhi 110 004. Telephone: +91-11-43430000 and link to Rolls Royce New Delhi website. This is the link to Rolls Royce: find a Rolls Royce dealer in India.
These are the most important models of Rolls Royce available in India:
Rolls Royce Phantom car model 2016
Here is what the Rolls Royce website says about the Rolls royce Phantom model:
"Phantom embodies a timeless elegance. Combining state-of-the-art technology and engineering with timeless contemporary design, the latest expression of Phantom is, once again, redefining the luxury car market.
In a rapidly changing world the power of technology to drive progress is, we believe, essential in creating the best. Embracing technology and blending it with the traditional skills of master craftsmen allows us to produce timeless motor cars that are perfectly in tune with our times.
Each member of the family displays a unique personality of its own but all continue to share the powerful presence for which Phantom is renowned."
Rolls Royce Ghost model car 2016
The Rolls Royce Ghost is introduced as follows on the Rolls Royce website: "introducing Ghost Series II. The ultimate expression of modern dynamism and luxury.
Dramatic yet graceful. Effortlessly simple with cutting-edge technology. The latest Ghost and Ghost Extended Wheelbase forge a silent path of serenity through an ever-changing world with no ordinary power.
Rolls Royce Wraith 2016 model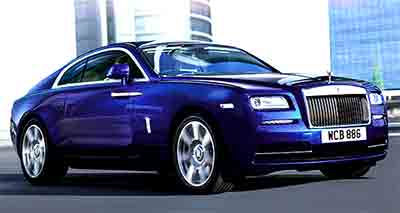 Rolls Royce website has this to say about the Rolls Royce Wraith: "The most technologically advanced and potent Rolls-Royce in history, Wraith is a car for the curious, the confident and the bold.
Inspired by the words of the company co-founder Sir Henry Royce, 'Take the best that exists and make it better' we have created a car that pushes the boundaries of design and engineering. With the power, style and drama to make the world stand still.
Now, drawing inspiration from the SS15 catwalk collections, Inspired by Fashion joins the Wraith line-up, alongside Inspired by Film.
Technical specifications of Rolls Royce cars 2016 models
These are the detailed specifications of the Rolls Royce 2016 Models from Rolls Royce website
Rolls Royce Phantom Extended Wheelbase Specifications
Vehicle length 6092 mm / 239.8 in
Vehicle width 1990 mm / 78.3 in
Vehicle height (unladen) 1640 mm / 64.6 in
Wheelbase 3820 mm / 150.4 in
Turning circle 14.0 m / 45.9 ft
Gross vehicle weight 3170 kg / 6989 lb
Engine
Engine: V12: 12 cylinders Displacement 6749 cc / 412 cu in
Power output @ engine speed: 453 bhp @ 5350 rpm
Max torque @ engine speed 720 Nm @ 3500 rpm
Performance
Top speed 150 mph / 240 km/h
Acceleration 0-60 mph 5.8 sec
Acceleration 0-100 km/h 6.1 sec
Acceleration 0-1000 m 25.6 sec
Fuel consumption: City: 5.22 Km/Liter; Highway: 11.77 Km/Liter
Tyres
Front Goodyear EMT 255/50 R21
Rear Goodyear EMT 285/45 R21

---
Rolls Royce Ghost 2016 Specifications
Vehicle length 5399 mm / 212.6 in
Vehicle width 1948 mm / 76.7 in
Vehicle height (unladen) 1550 mm / 61.0 in
Wheelbase 3295 mm / 129.7 in
Curb weight 2490 kg
Engine
Engine: V12 12 cylinders
Power output @ engine speed: 563 bhp @ 5250 rpm
Maximum torque @ engine speed: 780 Nm @ 1500 rpm
Performance
Top speed 155 mph / 250 km/h
Acceleration 0-60 mph: 4.7 sec
Acceleration 0-100 km/h: 4.9 sec
Fuel Consumption: City: 5.65 Km/L; Highway: 12.24 Km/L
---
Rolls Royce Wraith 2016 Tecnical Specs
Vehicle length 5269 mm / 207.4 in
Vehicle width 1947 mm / 76.7 in
Vehicle height (unladen) 1507 mm / 59.3 in
Wheelbase 3112 mm / 122.5 in
Curb weight 2440 kg
Engine
Engine: V12 12 cylinders
Power output @ engine speed: 624 bhp @ 5600 rpm
Maximum torque @ engine speed: 800 Nm @ 1500 rpm
Performance
Top speed 155 mph / 250 km/h (governed)
Acceleration 0-60 mph: 4.4 sec
Acceleration 0-100 km/h: 4.6 sec
Fuel Consumption: City: 5.65 Km/L; Highway: 12.24 Km/L