Toyota cars starting price in India with specifications
Please find below specifications and prices of all new Toyota car models in India. For convenience we have click-able links just below here, to take you directly to the specs and price of the new Toyota car model in India you clicked on.
This page is an old version from 2016. Will be updated soon.
Price of base model of Toyota cars in India
The on-road starting price of Toyota cars in India shown here are accurate for Delhi at the time of writing this. The taxes can change any time, and taxes in other States of India will most probably be slighltly higher, so use these prices only for budget purposes. You can know the ex-showroom price of Toyota models in all cities of India by visiting Toyota's website publishing their ex-showroom prices in the various cities of India.
New Toyota Etios Liva Hatchback price in India with specs
Etios Liva Hatchback
Starting price Toyota Etios Liva
Petrol: From ₹4,99,000-
Diesel: From ₹6,51,000-
LPG: Not available
Toyota Etios Liva Engine options:

Petrol 1197 cc (1.2L), 4 cyl, 80 HP or Diesel 1364cc (1.4L), 4 cyl, 68 HP

Dimensions in Meters:

Length 3775, Width=1.695, Height=1.510

Wheelbase and Toyota Etios Liva Ground clearance in mm:

2460 and 170

Toyota Etios Liva Fuel Economy Km per Litre:

Petrol 18.31 or Diesel 23.59

Toyota Etios Liva Automatic Gear available?

No

Toyota Etios Liva Speed Acceleration 0 to 100 KPH seconds:

13.96 (P) or 17.31 (D)

Toyota Etios Liva Turning circle Diameter in Meters:

9.6

Kerb Weight in Kg:

920

Toyota Etios Liva Tyre Size:

Size: 175 / 65 R14 or 185 / 60 R15

Toyota Etios Liva Indian website:

Toyota Etios Liva review on Youtube:

Toyota Etios Liva review on Team BHP forum:
New Toyota Etios Sedan price in India with specifications
Toyota Etios Sedan
Starting price Toyota Etios Sedan
Petrol: From ₹6,10,000-
Diesel: From ₹7,77,000-
LPG: Not Available
Toyota Etios Sedan Engine options:

Petrol 1496 cc (1.5L), 4 cyl, 90 HP or Diesel 1364cc (1.4L), 4 cyl, 68 HP

Dimensions in Meters:

Length 4.265, Width=1.695, Height=1.510

Wheelbase and Toyota Etios Sedan Ground clearance in mm:

2550 and 170

Toyota Etios Sedan Fuel Economy Km per Litre:

Petrol 17.57 or Diesel 23.5

Toyota Etios Sedan Automatic Gear available?

No

Toyota Etios Sedan Speed Acceleration 0 to 100 KPH seconds:

12.56 (P) or 17.31 (D)

Toyota Etios Sedan Turning circle Diameter in Meters:

9.8

Kerb Weight in Kg:

900

Toyota Etios Sedan Tyre Size:

Size: 185 / 60 R15

Toyota Etios Sedan Indian website:

Toyota Etios Sedan review on Youtube by Toyota:

Toyota Etios Sedan review on Team BHP forum:
New Toyota Etios Cross price and specification in India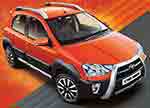 Toyota Etios Cross
Starting price Toyota Etios Cross
Petrol: From ₹5,74,000-
Diesel: From ₹6,49,000-
LPG: Not Available
Toyota Etios Cross Engine options:

Petrol 1197 cc (1.2L), 4 cyl, 80 HP and 1496 cc (1.5L), 4 cyl, 90 HP or Diesel 1364cc (1.4L), 4 cyl, 68 HP

Dimensions in Meters:

Length 3.895, Width=1.735, Height=1.555

Wheelbase and Toyota Etios Cross Ground clearance in mm:

2460 and 175

Toyota Etios Cross Fuel Economy Km per Litre:

Petrol 17.5 or Diesel 23

Toyota Etios Cross Automatic Gear available?

No

Toyota Etios Cross Speed Acceleration 0 to 100 KPH seconds:

12.56 (P) or 17.31 (D)

Toyota Etios Cross Turning circle Diameter in Meters:

9.8

Kerb Weight in Kg:

1030

Toyota Etios Cross Tyre Size:

Size: 185 / 60 R15

Toyota Etios Cross Indian website:

Toyota Etios Cross review on Youtube by Toyata Motors:

Toyota Etios Cross review Team BHP forum:
New Toyota Innova price and specification in India
Toyota Innova
Starting price Toyota Innova
Petrol: Not Available
Diesel: From ₹11,61,000-
LPG: Not Available
Toyota Innova Engine options:

Diesel 2494cc, 4 cyl, 102 HP

Dimensions in Meters:

Length 4.585 , Width=1.765, Height=1.760

Wheelbase and Toyota Innova Ground clearance in mm:

2750 and 176

Toyota Innova Fuel Economy Km per Litre:

Diesel 10.8

Toyota Innova Automatic Gear available?

No

Toyota Innova Speed Acceleration 0 to 100 KPH seconds:

17.6

Toyota Innova Turning circle Diameter in Meters:

10.8

Kerb Weight in Kg:

1680

Toyota Innova Tyre Size:

Size: 205 / 65 R15

Toyota Innova Indian website:

Toyota Innova review on Youtube:

Toyota Innova review Team BHP forum:
New Toyota Corolla Altis base model price in India with specifications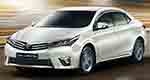 Toyota Corolla Altis
Starting price Toyota Corolla Altis
Petrol: From ₹14,82,000-
Diesel: From ₹16,08,000-
LPG: Not Available
Toyota Corolla Altis Engine options:

Petrol 1798 cc, 4 cyl 140 HP or Diesel 1364cc, 4 cyl, 88.4 HP

Dimensions in Meters:

Length 4.620, Width=1.775, Height=1.475

Wheelbase and Toyota Corolla Altis Ground clearance in mm:

2700 and 170

Toyota Corolla Altis Fuel Economy Km per Litre:

Petrol 14.53 or Diesel 21.45

Toyota Corolla Altis Automatic Gear available?

No

Toyota Corolla Altis Speed Acceleration 0 to 100 KPH seconds:

12.4

Toyota Corolla Altis Turning circle Diameter in Meters:

10.8

Kerb Weight in Kg:

1180

Toyota Corolla Altis Tyre Size:

Size: 205 / 55 R16

Toyota Corolla Altis Indian website:

Toyota Corolla Altis review on Youtube:

Toyota Corolla Altis review Team BHP forum:
New Toyota SUV Fortuner price in India with specs
Toyota Fortuner SUV
Starting price Toyota Fortuner SUV
Petrol: Not Available
Diesel: From ₹25,87,840-26,38,000-
LPG: Not Available
Toyota Fortuner Engine options:

Diesel 2982 cc, 4 cyl, 171 HP

Dimensions in Meters:

Length 4.705, Width=1.840, Height=1.850

Wheelbase and Toyota Fortuner Ground clearance in mm:

2750 and 220

Toyota Fortuner Fuel Economy Km per Litre:

Diesel 12.55

Toyota Fortuner Automatic Gear available?

Yes

Toyota Fortuner Speed Acceleration 0 to 100 KPH seconds:

12.9

Toyota Fortuner Turning circle Diameter in Meters:

11.2

Kerb Weight in Kg:

1885

Toyota Fortuner Tyre Size:

Size:265/65 R17

Toyota Fortuner Indian website:

Toyota Fortuner review on Youtube:

Toyota Fortuner review in India Team BHP forum:
New Toyota Camry car price in India with specifications
Toyota Camry
Starting price Toyota Camry
Petrol: From ₹29,94,000-
Diesel: Not Available
LPG: Not Available
Toyota Camry Engine options:

Petrol 2494 cc, 4 cyl, 181 HP

Dimensions in Meters:

Length 4.825, Width=1.825, Height=1.480

Wheelbase and Toyota Camry Ground clearance in mm:

2775 and 160

Toyota Camry Fuel Economy Km per Litre:

Petrol 12.98

Toyota Camry Automatic Gear available?

Yes

Toyota Camry Speed Acceleration 0 to 100 KPH seconds:

9.23

Toyota Camry Turning circle Diameter in Meters:

11.4

Kerb Weight in Kg:

1475

Toyota Camry Tyre Size:

Size: 215/60 R16

Toyota Camry Indian website:

Best Toyota Camry review on Youtube:

Toyota Camry review in India Team BHP forum:
New Toyota Prius hybrid car features and price in India
Toyota Prius
Starting price Toyota Prius Hybrid
Petrol: From ₹33,58,000-
Diesel: Not Available
LPG: Not Available
Toyota Prius Engine options:

Petrol 1798 cc, 4 cyl, 134 HP (Total)

Dimensions in Meters:

Length=4.480, Width=1.745, Height=1.525

Wheelbase and Toyota Prius Ground clearance in mm:

2700 and 160

Toyota Prius Fuel Economy Km per Litre:

Petrol 23.4

Toyota Prius Automatic Gear available?

Yes

Toyota Prius Speed Acceleration 0 to 100 KPH seconds:

10.96

Toyota Prius Turning circle Diameter in Meters:

10.4

Kerb Weight in Kg:

1415

Toyota Prius Tyre Size:

Size: 195/65 R15

Toyota Prius Hybrid Indian website:

Best Toyota Prius Hybrid video review on Youtube by Toyota themselves:

Toyota Prius Hybrid review in India Team BHP forum:
New Toyota Prado SUV price in India with specifications
Toyota Prado SUV
Starting price Toyota Prado SUV
Petrol: Not Available
Diesel: From ₹88,87,000-
LPG: Not Available
Toyota Prado Engine options:

Diesel 2982 cc (3L), 4 cyl, 173 HP

Dimensions in Meters:

Length=4.780, Width=1.885, Height=1.880

Wheelbase and Toyota Prado Ground clearance in mm:

2790 and 220

Toyota Prado Fuel Economy Km per Litre:

Diesel 11.3

Toyota Prado Automatic Gear available?

Yes

Toyota Prado Speed Acceleration 0 to 100 KPH seconds:

13.9

Toyota Prado Turning circle Diameter in Meters:

11.6

Kerb Weight in Kg:

2140

Toyota Prado Tyre Size:

Size: 265/60 R18

Toyota Prado SUV Indian website:

Best Toyota Prado SUV review on Youtube:

Toyota Prado review in India Team BHP forum:
New Toyota Land Cruisur SUV price in India with specification
Toyota Land Cruisur SUV
Starting price Toyota Land Cruisur SUV
Petrol: Not Available
Diesel: From ₹1,35,00,000 (1.35 crores)
LPG: Not Available
Toyota Land Cruisur Engine options:

Diesel 4461cc (4.5L), V8 8 cyl, 285 HP

Dimensions in Meters:

Length=4.950, Width=1.970, Height=1.865

Wheelbase and Toyota Land Cruisur Ground clearance in mm:

2850 and 225

Toyota Land Cruisur Fuel Economy Km per Litre:

Diesel 9.65

Toyota Land Cruisur Automatic Gear available?

Yes

Toyota Land Cruisur Speed Acceleration 0 to 100 KPH seconds:

13.1

Toyota Land Cruisur Turning circle Diameter in Meters:

11.8

Kerb Weight in Kg:

2740

Toyota Land Cruisur Tyre Size:

Size: 285/60 R18

Toyota Land Cruiser Indian website:

Best Toyota Land Cruiser review on Youtube:

Toyota Land Cruiser review in India Team BHP forum: