BMW Car Company history
BMW is the abbreviation for "Bayerische Motoren Werke" which in English translates to "Bavarian Motor Works". BMW was officially founded on March 3, 1916 and started as a manufacturer of aircraft engines and made a successful series of Aircraft engines which were in high demand by the German Air force.
In 1919 Germany lost World War 1 and Germany was barred from producing Aircraft engines and thus BMW had to convert themselves into producing boat, truck and farm equipment engines. there is a photo further below showing an old BMW factory from 1929.
Meaning of BMW logo emblem
BMW Logo from earlier Propellor logo
The BMW logo as shown here was introduced in the early 1920. The BMW emblem is based on the original BMW Airplane factory logo of 1916 and symbolises a rotating propeller of an airplane.
In the 1920's BMW starts producing motorcycles and re-enters the Aircraft engine manufacture. 1928 marks the beginning in terms of the BMW car. BMW buys the car factory at Eisenach/Thuringia and with it the license to build a small car called the Dixi 3/15 built under license from Austin of UK and was essentially the same model as the US Bantam and the Japanese Datsun. 1929 is the year when Ernst Henne riding a 750 cc BMW sets a new motorcycle record on September 19, 1929, reaching a speed of 134.65 mph (216.75 km/hr). This surpasses the existing world record by 10 kph. During the Second world war years of 1940 to 1945 BMW makes the largest aircraft engines, starts production of the world's first jet engines and also makes rockets for the German military.
During the period between the two world wars BMW made some very good cars as in the photo above
At the end of the Second World War, BMW lies in ruins. The works in Eisenach and Dürrerhof, Basdorf and Zühlsdorf are lost. The factory in Munich is dismantled. The victorious Allies impose a three-year ban on production because of the company's involvement in constructing aircraft engines and rockets. Below is a picture of an early BMW factory from 1929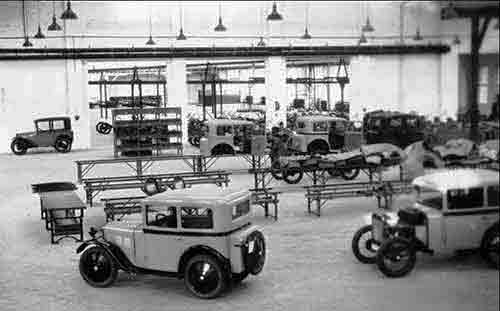 BMW is back in production after the period of the ban in 1949 with its first Civilian motorcycle since 1941. In 1950 the 250 cc limit of engine size imposed by the Allies was lifted.
The first post war car model, the V8 equipped 501 luxury sedan produced in 1951. Ever since BMW has grown from strength to strength and broke many world records in both Motor Cycle and Car Racing. Now BMW cars are considered as one of the best cars you can get.
BMW now owns Rolls-Royce the car of cars. Even James Bond uses BMW cars in the latest Bond movies. BMW now has 24 factories in thirteen Countries and sells its Cars and Motor Cycles to about 150 countries.
History of BMW cars in India
BMW started production and assembly in India by importing from Germany completely knocked down (CKD) BMW cars. BMW started production in India with their models, the BMW 3 and 5 Series Sedans. BMW are adding more models being assembled in India from completely knocked down (CKD) cars imported from Germany.
The history of BMW Company in India starts with the setting up in 2006 of 'BMW India Pvt Ltd' a 100% BMW Germany owned company in India. BMW India Pvt Ltd has its headquarters in Gurgaon, Haryana and has a factory in Chennai which officialy started production in India on 29th March 2007.