Mercedes Benz car models India
Please find below all Mercedes Benz car models and prices in India. For convenience we have clickable links just below, to take you directly to the specs and starting price of the new Mercedes Benz car model in India you click on.
This page is an old version from 2016. Will be updated soon.
Mercedes Benz Germany has an 100% owned Company in India called Mercedes-Benz India Pvt.Ltd. under which they have two factories in India, one in Chakan, Pune for car production and another factory in Oragadam, Chennai for commercial vehicles.
Starting price of Benz cars in India
Please find below a list of all Mercedes Benz cars available in India with details of the starting price of models of Benz cars in India.
Cheapest Benz car in India: A-Class
Benz A-Class
Benz A Class price range
29 to 35 Lakhs
Benz A Class Engine Options:

Petrol 1595 cc 4 cyl 122 HP or Diesel 2143 cc 4 cyl 107.2 HP

Dimensions in Meters:

Length=4.292, Width=1.780, Height=1.433

Wheelbase and Benz A Class Ground clearance in mm:

2699 and ---

Benz A Class Fuel Economy Km per Litre:

Petrol 15.5 or Diesel 20.06

Benz A Class Automatic Gear available?

Yes

Speed Acceleration 0 to 100 KPH seconds:

Petrol 9.76 or Diesel 11.29

Benz A Class Turning circle Diameter in Meters:

---

Kerb Weight in Kg:

1375

Benz A Class Tyre Size:

225/45 R17

Mercedes Benz A-Class Indian website:

Mercedes Benz A-Class review on Youtube:

Mercedes Benz A-Class Team BHP review:
Mercedes Benz B Class new model price and specs in India
Benz B-Class
Benz B Class price range
30 to 38 Lakhs
Benz B Class Engine Options:

Petrol 1595 cc 4 cyl 121 HP or Diesel 2143 cc 4 cyl 107.3 HP

Dimensions in Meters:

Length=4.359, Width=1.786, Height=1.557

Wheelbase and Benz B Class Ground clearance in mm:

2699 and ----

Benz B Class Fuel Economy Km per Litre:

Petrol 14.81 or Diesel 18.98

Benz B Class Automatic Gear available?

Yes

Benz B Class Speed Acceleration 0 to 100 KPH seconds:

Petrol 10.2 or Diesel 12

Benz B Class Turning circle Diameter in Meters:

11.0

Kerb Weight in Kg:

1425

Benz B Class Tyre Size:

225/45 R17

Mercedes Benz B-Class Indian website:

Mercedes Benz B-Class review on Youtube:

Mercedes Benz B-Class best review in India by Team BHP forum:
Price of new model Mercedes Benz C Class car in India with specs
Benz C-class
Benz C class price range
32 to 51 Lakhs
Benz C Class Engine Options:

Petrol 1796 cc 4 cyl 186 HP or Diesel 2143 cc 4 cyl 170 HP

Dimensions in Meters:

Length=4.591, Width=1.770, Height=1.447

Wheelbase and Benz C Class Ground clearance in mm:

2760 and 150

Benz C Class Fuel Economy Km per Litre:

Petrol 11.14 or Diesel 19.60

Benz C Class Automatic Gear available?

Yes

Benz C Class Speed Acceleration 0 to 100 KPH seconds:

Petrol 7.67 or Diesel 8.18

Benz C Class Turning circle Diameter in Meters:

10.8

Kerb Weight in Kg:

1585

Benz C Class Tyre Size:

225/45 R17

Mercedes Benz C-Class Indian website:

Mercedes Benz C-Class review on Youtube:

Mercedes Benz C-Class Team BHP review:
Mercedes Benz CLS-Class cars models and price in India
Benz CLS-class
Benz CLS class price range
1 to 1.2 crore
Benz CLS-Class Engine Options:

Petrol 3498 cc V6 6 cyl 302 HP

Dimensions in Meters:

Length=4.940, Width=1.881, Height=1.416

Wheelbase and Benz CLS-Class Ground clearance in mm:

2874 and 150

Benz CLS-Class Fuel Economy Km per Litre:

Petrol 11.76

Benz CLS-Class Automatic Gear available?

Yes

Benz CLS-Class Speed Acceleration 0 to 100 KPH seconds:

---

Benz CLS-Class Turning circle Diameter in Meters:

11.2

Kerb Weight in Kg:

1650

Benz CLS-Class Tyre Size:

245/35 R18

Mercedes Benz CLS-Class Indian website:

Mercedes Benz CLS-Class review on Youtube:

Mercedes Benz CLS-Class Team BHP review:
Mercedes Benz E-Class car price in India wit specs
Benz E-class
Benz E class price range
49 Lakhs - 1.1 crore
Benz E-Class Engine Options:

Petrol 1991 cc 4 cyl 184 HP or Diesel 2143 cc 4 cyl 204 HP

Dimensions in Meters:

Length=4.879, Width=1.854, Height=1.474

Wheelbase and Benz E-Class Ground clearance in mm:

2847 and 160

Benz E-Class Fuel Economy Km per Litre:

Petrol 13.82 or Diesel 17.27

Benz E-Class Automatic Gear available?

Yes

Benz E-Class Speed Acceleration 0 to 100 KPH seconds:

Petrol 9.47 or Diesel 8.31

Benz E-Class Turning circle Diameter in Meters:

12.3

Kerb Weight in Kg:

1720

Benz E-Class Tyre Size:

245/40 R18

Mercedes Benz E-Class Indian website:

Mercedes Benz E-Class review on Youtube:

Mercedes Benz E-Class Team BHP review:
Mercedes Benz GL Class SUV price in India with specs
Benz SUV GL-class
Benz SUV GL class price range
85 to 95 Lakhs
Benz GL Class Engine Options:

Diesel 2987 cc V6 6 cyl 255 HP

Dimensions in Meters:

Length=5.099, Width=1.920, Height=1.840

Wheelbase and Benz GL Class Ground clearance in mm:

3075 and 307 (adjustable air suspension)

Benz GL Class Fuel Economy Km per Litre:

Diesel 11.61

Benz GL Class Automatic Gear available?

Yes

Benz GL Class Speed Acceleration 0 to 100 KPH seconds:

Diesel 8.91

Benz GL Class Turning circle Diameter in Meters:

12.3

Kerb Weight in Kg:

2450

Benz GL Class Tyre Size:

275/55 R19

Mercedes Benz GL-Class Indian website:

Mercedes Benz GL-Class SUV review on Youtube:

Mercedes Benz GL-Class SUV Team BHP review:
Mercedes Benz M Class SUV India price with specs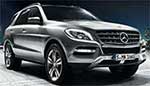 Benz SUV M-class
Benz SUV M class price range
60 to 84 Lakhs
Mercedes Benz M Class Engine Options:

Diesel 2143 cc 4 cyl 203 HP or Diesel 2987 cc V6 6 cyl 255 HP

Dimensions in Meters:

Length=4.804, Width=1.926, Height=1.796

Wheelbase and Benz M Class Ground clearance in mm:

2915 and ---

Benz M Class Fuel Economy Km per Litre:

15.26 (4 cyl) or 13.03 (V6)

Benz M Class Automatic Gear available?

Yes

Mercedes Benz M Class Speed Acceleration 0 to 100 KPH seconds:

7.58 (V6)

Mercedes Benz M Class Turning circle Diameter in Meters:

11.8

Kerb Weight in Kg:

2175

Mercedes Benz M Class Tyre Size:

265/45 R20

Mercedes Benz M-Class SUV Indian website:

Mercedes Benz M-Class SUV review on Youtube:

Mercedes Benz M-Class Team BHP review:
Mercedes Benz S Class starting price in India with specifications

Benz S Class
Benz S class price range
1.1 to 1.8 crores
Mercedes Benz S Class Engine Options:

Petrol 4663 cc V8 8 cyl 453 HP or Diesel 2987 cc V6 6 cyl 255 HP

Dimensions in Meters:

Length=5.246, Width=1.899, Height=1.494

Wheelbase and Mercedes Benz S Class Ground clearance in mm:

3165 and 185 (adjustable air suspension)

Mercedes Benz S Class Fuel Economy Km per Litre:

Petrol 6.4 or Diesel 9.01

Automatic Gear available?

Yes

Mercedes Benz S Class Speed Acceleration 0 to 100 KPH seconds:

Petrol 7.1 or Diesel 9.25

Mercedes Benz S Class Turning circle Diameter in Meters:

12.3

Kerb Weight in Kg:

2200

Mercedes Benz S Class Tyre Size:

275/40 R19

Mercedes Benz S-Class Indian website:

How Mercedes Benz S-Class is made to be best car in the world; see video on Youtube:

Mercedes Benz S-Class Team BHP review:
Mercedes Benz SLK Class starting price in India with specifications
Benz SLK Class Convertible
Benz SLK convertible price range
81 to 96 Lakhs
Mercedes Benz SLK Class Engine Options:

Petrol 3498cc V6 305

Dimensions in Meters:

Length=4.146, Width=2.006, Height=1.300

Wheelbase and Mercedes Benz SLK Class Ground clearance in mm:

2430 and 145

Mercedes Benz SLK Class Fuel Economy Km per Litre:

Petrol ---

Mercedes Benz SLK Class Automatic Gear available?

Yes

Mercedes Benz SLK Class Speed Acceleration 0 to 100 KPH seconds:

Petrol 6.48

Mercedes Benz SLK Class Turning circle Diameter in Meters:

12.3

Kerb Weight in Kg:

1610

Mercedes Benz SLK Class Tyre Size:

235/40 R18

Mercedes Benz SLK-Class Indian website:

Mercedes Benz SLK-Class review video on Youtube:

Mercedes Benz SLK-Class Team BHP review: