Under 5 Lakh cars in India
Please find below a list of best and cheapest brand new cars in India costing less than or around 5 lakhs. The price taken for these under 5 lakh cars is the estimated on-road prices in Delhi where the taxes are about the lowest in India. Most of these prices will be slightly higher in other States of India, so the best way is to contact the local dealer of new cars. Against each under 5 lakh car models below, we have given the website link for that model of the car. By visiting the car manufacturers website you can know who is the authorised dealer in your city and you can contact him.
This page is an old version from 2016. Will be updated soon.
Below 5 lakh Diesel cars in India
Unfortunatly the selection of diesel cars costing below 5 lakhs in India are just a few which are on special offers by the Car agencies. Any diesel car costing under 5 lakhs will be the best mileage diesel car under 5 lakhs because they will have very small engines.
Below 5 lakh cars in India by Manufacturer
Click on any of the manufacturers name in the list below, and the page will jump to that particular section where all models 5 lakh cars from that brand is listed
Cars within 5 lakh in India by Model
Click on any car model in the table below, and the page will jump to that particular section where that car models is listed
New Cars upto 5 lakhs in India

| Car Model | Price ₹ |
| --- | --- |
| Tata Nano | 1,81,000- |
| Maruti Alto | 2,71,000-  |
| Maruti Omni | 2,72,000-  |
| Hyundai Eon | 3,19,000- |
| Maruti Eeco | 3,38,000- |
| Maruti Alto K10 | 3,56,000- |
| Maruti Wagonr | 3,92,000- |
| Chevrolet Spark | 3,82,000- |
| Hyundai Santro | 3,98,000- |
| Maruti Celerio | 4,20,000- |
| Tata Bolt | 4,25,000- |
| Ford Figo | 4,32,000- |
New Cars within 5 lakhs in India

| Car Model | Price ₹ |
| --- | --- |
| Tata Indica | 4,33,000- |
| Hyundai i10 | 4,50,000- |
| Chevrolet Beat | 4,50,000- |
| Honda Brio | 4,51,000- |
| Maruti Stingray | 4,59,000- |
| Chevrolet Sail | 4,75,000- |
| Maruti Ritz | 4,74,000- |
| Mahindra Reva | 4,82,000- |
| Hyundai Grand i10 | 4,88,000- |
| Renault Pulse | 4,94,000- |
| Maruti Swift | 4,95,000- |
| Toyota Etios Liva | 4,99,000- |
Chevrolet Spark car models and prices
Chevrolet Spark
Starting price of Chevrolet Spark
Petrol: From ₹3,82,000-
Diesel: Not Available
LPG: Not Available
Chevrolet Spark Engine options:

Petrol 995cc 4cyl 63HP

Dimensions in Meters:

Length=3.495, Width=1.495, Height=1.518

Wheelbase and Chevrolet Spark Ground clearance in mm:

2345 and 170

Chevrolet Spark Fuel Economy Km per Litre:

18.29

Chevrolet Spark Automatic Gear available?

No

Chevrolet Spark Speed Acceleration 0 to 100 KPH seconds:

15.93 Petrol

Chevrolet Spark Tyres Size:

155/70 R13

Chevrolet Spark Turning circle Diameter in Meters:

9.2

Kerb Weight in Kg:

840

Chevrolet Spark Indian Website:

New Chevrolet Spark review on Youtube:

New Chevrolet Spark review Team BHP forum:
New model of Chevrolet Beat price and specs in India
Chevrolet Beat
Starting price of Chevrolet Beat
Petrol: From ₹4,39,000-
Diesel: From ₹5,37,000-
LPG: From ₹4,76,000-
Chevrolet Beat Engine options:

Petrol 1199 cc 4 cyl 77.9 HP or Diesel 936 cc; 3 cyl 57.1 HP

Dimensions in Meters:

Length=3.640, Width=1.595, Height=1.520

Wheelbase and Chevrolet Beat Ground clearance in mm:

2375 and 165

Chevrolet Beat Fuel Economy Km per Litre:

Petrol 18.6 or Diesel 25.44 or 13.3 on LPG

Chevrolet Beat Automatic Gear available?

No

Chevrolet Beat Speed Acceleration 0 to 100 KPH seconds:

Petrol 14.86 or Diesel 18.59

Chevrolet Beat Tyres Size:

155/70 R14 or 165/65 R14

Chevrolet Beat Turning circle Diameter in Meters:

8.9

Kerb Weight in Kg:

Petrol 965; Diesel 1027

Chevrolet Beat Indian Website:

New Chevrolet Beat review on Youtube:

New Chevrolet Beat review Team BHP forum:
New models of Chevrolet Sail UVA Hatchback models and price in India
Sail UVA Hatchback
Starting price of Chevrolet Sail UVA
Petrol: From ₹4,75,000-
Diesel: From ₹6,35,000-
LPG: Not Available
Chevrolet Sail UVA Engine options:

Petrol 1199 cc 4 cyl 85 HP or Diesel 1248 cc; 4 cyl 77 HP

Dimensions in Meters:

Length=4.249, Width=1.503, Height=1.690

Wheelbase and Chevrolet Sail UVA Ground clearance in mm:

2465 and 168

Chevrolet Sail UVA Fuel Economy Km per Litre:

Petrol 18.2 or Diesel 22.1

Chevrolet Sail UVA Automatic Gear available?

No

Chevrolet Sail UVA Speed Acceleration 0 to 100 KPH seconds:

Petrol 14.66 or Diesel 15.22

Chevrolet Sail UVA Tyres Size:

175/70 R14

Chevrolet Sail UVA Turning circle Diameter in Meters:

10.3

Kerb Weight in Kg:

(P)1065 ; 1124 (D)

Chevrolet Sail UVA Indian Website:

New models of Chevrolet Sail UVA review on Youtube:

New models of Chevrolet Sail UVA review on Team BHP forum:
Ford Figo new models in India with price and specs
Ford Figo
Ford Figo new model basic price
Petrol: From ₹4,32,000-
Diesel: From ₹5,42,000-
LPG: Not Available
Ford Figo Engine options:

Petrol 1196cc 4cyl 70HP or Diesel 1399 cc; 4 cyl 68 HP

Dimensions in Meters:

Length=3.795, Width=1.680, Height=1.427

Wheelbase and Ground clearance in mm

: 2489 and 168

Ford Figo Fuel Economy Km per Litre:

Petrol 15.3 or Diesel 19.5

Ford Figo Automatic Gear available?

No

Ford Figo Speed Acceleration 0 to 100 KPH seconds:

Petrol 16.97 or Diesel 16.33

Ford Figo Tyres Size:

175/65 R14

Ford Figo Turning circle Diameter in Meters:

9.8

Kerb Weight in Kg:

1090(P); 1130(D)

New Ford Figo Indian Website:

Ford Figo new model review on Youtube:

New Ford Figo review by Team BHP forum:
Honda Brio all models and price in India
Honda Brio Hatchback
Honda Brio base model price
Petrol: From ₹4,39,000-
Diesel: Not Available
CNG: Not Available
Honda Brio Engine options:

Petrol 1198 cc, 4 cyl, 88 HP

Dimensions in Meters:

Length 3.160, Width=1.680, Height=1.500

Wheelbase and Ground clearance in mm:

2345 and 165

Honda Brio Fuel Economy Km per Litre:

18.4

Honda Brio Automatic Gear available?

Yes

Honda Brio Speed Acceleration 0 to 100 KPH seconds:

12.86

Honda Brio Turning circle Diameter in Meters:

9

Kerb Weight in Kg:

920

Honda Brio Tyre Size:

Size: 175/65 R14

Honda Brio hatchback Indian website:

Honda Brio hatchback review on Youtube:

Honda Brio hatchback review on Team BHP forum:
New Mahindra electric car Reva models and price in India
Mahindra Reva e2o
Starting price Mahindra Reva
Petrol: Not Available
Diesel: Not Available
Electric: From ₹4,82,000-
Engine options:

Electric motor 25.5 HP

Dimensions in Meters:

Length=3.280, Width=1.514, Height=1.560

Wheelbase and Ground clearance in mm:

1958 and 180

Fuel Economy Km per Litre:

100 Km range with full charge

Automatic Gear available?

Yes fully automatic

Speed Acceleration 0 to 100 KPH seconds:

---

Tyre Size:

155/70 R13

Mahindra Reva e2o website:

Mahindra Reva e2o review on Youtube:

New Mahindra Reva e2o review on Team BHP forum:
New Maruti Alto 800 price and specs in India
Maruti Alto-800
Maruti Alto 800 starting price
Petrol: From ₹2,71,000-
Diesel: Not Available
CNG: From ₹3,50,000-
Maruti Alto 800 Engine options:

Petrol 796cc 3cyl 47HP

Dimensions in Meters:

Length=3.395, Width=1.490, Height=1.475

Wheelbase and Maruti Alto 800 Ground clearance in mm:

2360 and 160

Maruti Alto 800 Fuel Economy Km per Litre:

22.74

Maruti Alto 800 Automatic Gear available?

No

Maruti Alto 800 Speed Acceleration 0 to 100 KPH seconds:

16.92

Maruti Alto 800 Turning circle Diameter in Meters:

9.2

Kerb Weight in Kg:

695

Maruti Alto 800 Tyre Size:

145/80 R12

Maruti Alto 800 official website:

Maruti Alto 800 review on Youtube:

New Maruti Alto 800 review Team BHP forum:
New Maruti Omni price and specification in India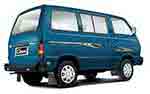 Maruti Omni
Maruti Omni starting price
Petrol: From ₹2,72,000-
Diesel: Not Available
CNG: From ₹2,92,000-
Maruti Omni Engine options:

Petrol / LNG 796 cc, 3 cyl, 35 HP

Dimensions in Meters:

Length=3.370, Width=1.410, Height=1.640

Wheelbase and Maruti Omni Ground clearance in mm:

1840 and 165

Maruti Omni Fuel Economy Km per Litre:

Petrol 16.9; LNG 10.9 /Kg.

Maruti Omni Automatic Gear available?

No

Maruti Omni Speed Acceleration 0 to 100 KPH seconds:

Petrol ---

Maruti Omni Turning circle Diameter in Meters:

8.2

Kerb Weight in Kg:

Petrol 785

Maruti Omni Tyre Size:

145/80 R12

Maruti Omni official website:

Maruti Omni on youtube video review:

New Maruti Omni review on Team BHP forum:
New Maruti Eeco price and specification in India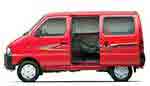 Maruti Eeco
Maruti Eeco starting price
Petrol: From ₹3,38,000-
Diesel: Not Available
CNG: From ₹4,09,000-
Maruti Eeco Engine options:

Petrol / CNG 1196 cc, 4 cyl, 73 HP

Dimensions in Meters:

Length=3.675, Width=1.475, Height=1.800

Wheelbase and Maruti Eeco Ground clearance in mm:

2350 and 160

Maruti Eeco Fuel Economy Km per Litre:

Petrol 15.1; CNG 20 /Kg.

Maruti Eeco Automatic Gear available?

No

Maruti Eeco Speed Acceleration 0 to 100 KPH seconds:

Petrol ---

Maruti Eeco Turning circle Diameter in Meters:

9

Kerb Weight in Kg:

Petrol 810

Maruti Eeco Tyre Size:

155/80 R13

Maruti Eeco official website:

Maruti Eeco on youtube video review:

New Maruti Eeco review on Team BHP forum:
New Maruti Alto K10 base model price in India with specs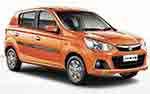 Maruti Alto K10
Maruti Alto K10 starting price
Petrol: From ₹3,56,000-
Diesel: Not Available
CNG: From ₹3,70,000-
Maruti Alto K10 Engine options:

Petrol 998 cc 3 cyl 67 HP

Dimensions in Meters:

Length=3.620, Width=1.495, Height=1.460

Wheelbase and Maruti Alto K10 Ground clearance in mm:

2360 and 160

Maruti Alto K10 Fuel Economy Km per Litre:

20.20

Maruti Alto K10 Automatic Gear available?

Yes

Maruti Alto K10 Speed Acceleration 0 to 100 KPH seconds:

15.87

Maruti Alto K10 Turning circle Diameter in Meters:

9.2

Kerb Weight in Kg:

765

Maruti Alto K10 Tyre Size:

145/80 R12

Maruti Alto K-10 official website:

Maruti Alto K-10 review on Youtube:

New Maruti Alto K10 review Team BHP forum:
New Maruti Wagonr price and specification in India
Maruti Wagonr
Maruti Wagonr starting price
Petrol: From ₹3,92,000-
Diesel: Not Available
CNG: From ₹4,12,000-
Maruti Wagonr Engine options:

Petrol 998 cc 3 cyl 67 HP

Dimensions in Meters:

Length=3.599, Width=1.495, Height=1.700

Wheelbase and Maruti Wagonr Ground clearance in mm:

2400 and 165

Maruti Wagonr Fuel Economy Km per Litre:

18.9

Maruti Wagonr Automatic Gear available?

No

Maruti Wagonr Speed Acceleration 0 to 100 KPH seconds:

16.9

Maruti Wagonr Turning circle Diameter in Meters:

9.2

Kerb Weight in Kg:

Petrol 860

Maruti Wagonr Tyre Size:

145/80 R13

Maruti Wagonr official website:

Maruti Alto K-10 review on Youtube:

New Maruti Wagonr review Team BHP forum:
New Maruti Celerio base model price with specs in India
Maruti Celerio
Maruti Celerio starting price
Petrol: From ₹4,20,000-
Diesel: Not Available
Lng / CNG: From ₹5,22,000-
Maruti Celerio Engine options:

Petrol 998 cc 3 cyl 67 HP

Dimensions in Meters:

Length=3.600, Width=1.600, Height=1.560

Wheelbase and Maruti Celerio Ground clearance in mm:

2425 and 165

Maruti Celerio Fuel Economy Km per Litre:

23.1

Maruti Celerio Automatic Gear available?

Yes AMT (Automated Manual Transmission)

Maruti Celerio Speed Acceleration 0 to 100 KPH seconds:

14.24

Maruti Celerio Turning circle Diameter in Meters:

9.4

Kerb Weight in Kg:

810

Maruti Celerio Tyre Size:

155/80 R13

Maruti Celerio website:

Maruti Celerio review on Youtube:

New Maruti Celerio review Team BHP forum:
New Maruti Stingray price and specification in India
Maruti Stingray
Maruti Stingray starting price
Petrol: From ₹4,51,000-
Diesel: Not Available
LNG / CNG: Not Available
Maruti Stingray Engine options:

Petrol 998 cc 3 cyl 67 HP

Dimensions in Meters:

Length=3.636, Width=1.475, Height=1.670

Wheelbase and Maruti Stingray Ground clearance in mm:

2400 and 165

Maruti Stingray Fuel Economy Km per Litre:

18.9

AMaruti Stingray utomatic Gear available?

No

Maruti Stingray Speed Acceleration 0 to 100 KPH seconds:

16.9

Maruti Stingray Turning circle Diameter in Meters:

9.2

Maruti Stingray Kerb Weight in Kg:

Petrol 870

Maruti Stingray Tyre Size:

155/60 R14

Maruti Stingray official website:

Maruti Stingray review on Youtube:

New Maruti Stingray review Team BHP forum:
New Maruti Ritz price and specification in India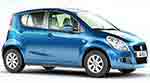 Maruti Ritz
Maruti Ritz starting price
Petrol: From ₹4,74,000-
Diesel: From ₹5,94,000-
LNG / CNG: Not Available
Maruti Ritz Engine options:

Petrol 1197 cc 4 cyl 86 HP or Diesel 1248cc 4 cyl 74 HP

Dimensions in Meters:

Length=3.715, Width=1.680, Height=1.620

Wheelbase and Maruti Ritz Ground clearance in mm:

2360 and 170

Maruti Ritz Fuel Economy Km per Litre:

Petrol 18.5 or Diesel 23.2

Maruti Ritz Automatic Gear available?

Yes

Speed Acceleration 0 to 100 KPH seconds:

Petrol 13.3 or Diesel 15.18

Maruti Ritz Turning circle Diameter in Meters:

9.4

Kerb Weight in Kg:

Petrol 1005 or Diesel 1110

Maruti Ritz Tyre Size:

165/80 R14 or 185/70 R14

Maruti Ritz official website:

Maruti Ritz review on Youtube:

New Maruti Ritz review Team BHP forum:
New Maruti Swift price and specification in India
Maruti Swift
Maruti Swift starting price
Petrol: From ₹4,95,000
Diesel: From ₹6,15,000
LNG / CNG: Not Available
Maruti Swift Engine options:

Petrol 1197 cc, 4 cyl, 86 HP; or Diesel 1248 cc, 4 cyl, 74 HP;

Dimensions in Meters:

Length=3.850, Width=1.695, Height=1.530

Wheelbase and Maruti Swift Ground clearance in mm:

2430 and 170

Maruti Swift Fuel Economy Km per Litre:

Petrol 18.6 or Diesel 22.9

Maruti Swift Automatic Gear available?

No

Speed Acceleration 0 to 100 KPH seconds:

Petrol 12.93 or Diesel 15.15

Maruti Swift Turning circle Diameter in Meters:

9.6

Maruti Swift Kerb Weight in Kg:

Petrol 960 or Diesel 1080

Maruti Swift Tyre Size:

165/80 R14

Maruti Swift official website:

Maruti Swift youtube video review:

New Maruti Swift review Team BHP forum:
New Renault Pulse base model features, price and specs
Renault Pulse Hatchback
Starting price of Renault Pulse Hatchback
Petrol: From ₹4,94,000-
Diesel: From ₹7,05,000-
Lng / CNG: Not Available
Renault Pulse Engine options:

Petrol 1198 cc, 3 cyl, 75 HP or Diesel 1461 cc, 4 cyl, 63 HP

Dimensions in Meters:

Length 3.805, Width=1.665, Height=1.530

Wheelbase and Renault Pulse Ground clearance in mm:

2450 and ---

Renault Pulse Fuel Economy Km per Litre:

Petrol 18.06 or Diesel 23.08

Renault Pulse Automatic Gear available?

No

Renault Pulse Speed Acceleration 0 to 100 KPH seconds:

Diesel 16.2

Renault Pulse Turning circle Diameter in Meters:

---

Kerb Weight in Kg:

1070

Renault Pulse Tyre Size:

Size: 165/70 R14

Renault Pulse Indian website:

Renault Pulse review on Youtube:

Renault Pulse review on Team BHP forum:
New Tata Nano Twist price in India with specifications
Tata Nano Twist
Starting price Tata Nano
Petrol: From ₹1,81,000-
Diesel: Not Available
CNG: From ₹2,67,000-
Tata Nano Engine options:

Petrol 624cc 2cyl 37.4HP

Dimensions in Meters:

Length=3.099, Width=1.495, Height=1.652

Wheelbase and Tata Nano Ground clearance in mm:

2230 and 180

Tata Nano Fuel Economy Km per Litre:

25.4

Tata Nano Automatic Gear available?

No

Tata Nano Speed Acceleration 0 to 100 KPH seconds:

16.92

Tata Nano Tyre Size:

135/70 R12

Tata Nano official website:

Tata Nano review on Youtube:

New Tata Nano Twist review Team BHP forum:
New Tata Bolt car price in India with specs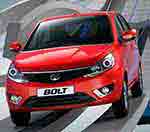 Tata Bolt
Starting price Tata Bolt
Petrol: From ₹4,25,000-
Diesel: From ₹5,00,000-
CNG: Not Available
Tata Bolt Engine options:

new model specs not released

Dimensions in Meters:

Length=---, Width=---, Height=---

Wheelbase and Tata Bolt Ground clearance in mm:

new model specs not released

Tata Bolt Fuel Economy Km per Litre:

---

Automatic Gear available?

---

Tata Bolt Speed Acceleration 0 to 100 KPH seconds:

--

Tata Bolt Tyres Size:

---

Tata Bolt official website:

Tata Bolt review on Youtube:

New Tata Bolt review Team BHP forum:
New Tata Indica car price in India with specs
Tata Indica
Starting price Tata Indica
Petrol: From ₹4,33,000-
Diesel: From ₹5,05,000-
CNG: From ₹4,53,000--
Tata Indica Engine options:

Petrol / CNG 1193 cc, 4 cyl, 55 HP; or Diesel 1396 cc, 4 cyl, 70 HP;

Dimensions in Meters:

Length=3.690, Width=1.665, Height=1.485

Wheelbase and Tata Indica Ground clearance in mm:

2400 and 170

Tata Indica Fuel Economy Km per Litre:

Diesel 25

Tata Indica Automatic Gear available?

No

Tata Indica Speed Acceleration 0 to 100 KPH seconds:

Diesel 15.93

Tata Indica Tyres Size:

165/65 R14

Tata Indica Xeta Petrol website:

Tata Indica eV2 Diesel website:

Tata Indica official website:

Tata Indica review on Youtube:

New Tata Indica review on Team BHP forum:
New Toyota Etios Liva Hatchback price in India with specs
Etios Liva Hatchback
Starting price Toyota Etios Liva
Petrol: From ₹4,99,000-
Diesel: From ₹6,51,000-
LPG: Not Available
Toyota Etios Liva Engine options:

Petrol 1197 cc (1.2L), 4 cyl, 80 HP or Diesel 1364cc (1.4L), 4 cyl, 68 HP

Dimensions in Meters:

Length 3775, Width=1.695, Height=1.510

Wheelbase and Toyota Etios Liva Ground clearance in mm:

2460 and 170

Toyota Etios Liva Fuel Economy Km per Litre:

Petrol 18.31 or Diesel 23.59

Toyota Etios Liva Automatic Gear available?

No

Toyota Etios Liva Speed Acceleration 0 to 100 KPH seconds:

13.96 (P) or 17.31 (D)

Toyota Etios Liva Turning circle Diameter in Meters:

9.6

Kerb Weight in Kg:

920

Toyota Etios Liva Tyre Size:

Size: 175 / 65 R14 or 185 / 60 R15

Toyota Etios Liva official website:

Toyota Etios Liva review on Youtube:

Toyota Etios Liva review on Team BHP forum: