Mahindra SUV Jeep and Car models with price, specs, reviews
Please find below specifications and prices of all new models of Mahindra SUV, Jeep and cars in India. For convenience we have clickable links just below, to take you directly to the specs and price of the new Mahindra Jeep, SUV, or car model in India you click on.
This page is an old version from 2016. Will be updated soon.
Starting price of Mahindra Jeep SUV Cars in India
The on-road starting price of Mahindra Jeep SUV and Cars in India shown here are accurate for Delhi at the time of writing this. The taxes can change any time, and taxes in other States of India will most probably be slighltly higher, so use these prices only for budget purposes.
You can also obtain the ex-showroom prices of Mahindra Vehicles from their various websites for individual models of Mahindra vehicles, Links are given at the bottom of this page.
New Mahindra Bolero specs and base model price in India
Mahindra Bolero
Starting price Mahindra Bolero
Petrol: Not Available
Diesel: From ₹6,43,000-
CNG: Not Available
Mahindra Bolero Engine options:

Diesel 2523cc; 4cyl; 63 HP

Dimensions in Meters:

Length=4.107, Width=1.745, Height=1.880

Wheelbase and Mahindra Bolero Ground clearance in mm:

2680 and 180

Mahindra Bolero Fuel Economy Km per Litre:

15.4

Mahindra Bolero Automatic Gear available?

No

Mahindra Bolero Speed Acceleration 0 to 100 KPH seconds:

19.5

Mahindra Bolero Tyre Size:

215/75 R15

Mahindra Bolero website:

Mahindra Bolero review on Youtube:

New Mahindra Bolero review on Team BHP forum:
New Mahindra Quanto models and starting price in India
Mahindra Quanto
Starting price Mahindra Quanto
Petrol: Not Available
Diesel: From ₹6,98,000-
CNG: Not Available
Mahindra Quanto Engine options:

Diesel 1493 cc; 3 cyl; 98.6 HP

Dimensions in Meters:

Length=3.985, Width=1.850, Height=1.880

Wheelbase and Mahindra Quanto Ground clearance in mm:

2760 and 180

Mahindra Quanto Fuel Economy Km per Litre:

17.2

Mahindra Quanto Automatic Gear available?

Soon

Speed Acceleration 0 to 100 KPH seconds:

16

Mahindra Quanto Tyre Size:

205/65 R15

Mahindra Quanto website:

Mahindra Quanto review on Youtube:

New Mahindra Quanto review on Team BHP forum:
New Mahindra electric car Reva models and price in India
Mahindra Reva e2o
Starting price Mahindra Reva
Petrol: Not Available
Diesel: Not Available
Electric: From ₹4,82,000-
Engine options:

Electric motor 25.5 HP

Dimensions in Meters:

Length=3.280, Width=1.514, Height=1.560

Wheelbase and Ground clearance in mm:

1958 and 180

Fuel Economy Km per Litre:

100 Km range with full charge

Automatic Gear available?

Yes fully automatic

Speed Acceleration 0 to 100 KPH seconds:

---

Tyre Size:

155/70 R13

Mahindra Reva e2o website:

Mahindra Reva e2o review on Youtube:

New Mahindra Reva e2o review on Team BHP forum:
New Mahindra Scorpio models and base price in India
Mahindra Scorpio
Starting price Mahindra Scorpio
Petrol: Not Available
Diesel: From ₹9,96,000-
Lng / CNG: Not Available
Mahindra Scorpio Engine options:

Diesel 2523 cc, 4 cyl, 75 HP; or 2179 cc, 4 cyl, 120 HP;

Dimensions in Meters:

Length=4.430, Width=1.817, Height=1.975

Wheelbase and Mahindra Scorpio Ground clearance in mm:

2680 and 180

Mahindra Scorpio Fuel Economy Km per Litre:

15.9

Mahindra Scorpio Automatic Gear available?

Yes

Mahindra Scorpio Speed Acceleration 0 to 100 KPH seconds:

14.88

Tyre Size:

235/70 R16

Mahindra Scorpio SUV website:

Mahindra Scorpio SUV review on Youtube:

New Mahindra Scorpio SUV review on Team BHP forum:
New Mahindra Thar Jeep 4x4 off-roader models and starting price in India
Mahindra Jeep Thar 4x4
Starting price Mahindra Jeep Thar
Petrol: Not Available
Diesel: From ₹8,45,000-
LNG / CNG: Not Available
Mahindra Thar Engine options:

Diesel 2498 cc, 4 cyl, 105 HP;

Dimensions in Meters:

Length=3.920, Width=1.710, Height=1.930

Wheelbase and Mahindra Thar Ground clearance in mm:

2430 and 200

Mahindra Thar Fuel Economy Km per Litre:

13.28

Mahindra Thar Automatic Gear available?

No

Mahindra Thar Speed Acceleration 0 to 100 KPH seconds:

17.45

Mahindra Thar Tyre Size:

235/70 R16

Mahindra Thar 4x4 off road website:

Mahindra Jeep Thar 4x4 off road review on Youtube:

New Mahindra Jeep Thar 4x4 off road review on Team BHP forum:
New Mahindra Verito sedan car models and starting price in India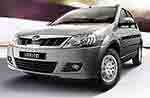 Mahindra Verito sedan
Starting price Mahindra Verito
Petrol: From ₹6,07,000-
Diesel: From ₹7,45,000-
LNG / CNG: Not Available
Mahindra Verito Engine options:

Petrol 1390 cc, 4 cyl, 75 HP or Diesel 1461 cc, 4 cyl, 65 HP;

Dimensions in Meters:

Length=4.277, Width=1.740, Height=1.540

Wheelbase and Mahindra Verito Ground clearance in mm:

2630 and 170

Mahindra Verito Fuel Economy Km per Litre:

Petrol 13.87 or Diesel 20.80

Mahindra Verito Automatic Gear available?

No

Mahindra Verito Speed Acceleration 0 to 100 KPH seconds:

Perol 16.7 or Diesel 17.15

Mahindra Verito Tyre Size:

185/70 R14

Mahindra Verito Sedan website:

Mahindra Verito Sedan review on Youtube:

New Mahindra Verito Sedan review on Team BHP forum:
New Mahindra Verito Vibe specs and base model price in India
Mahindra Verito Vibe
Starting price Mahindra Vibe
Petrol: Not Available
Diesel: From ₹6,32,000-
LNG / CNG: Not Available
Mahindra Verito Vibe Engine options:

Diesel 1461 cc, 4 cyl, 65 HP;

Dimensions in Meters:

Length=3.991, Width=1.740, Height=1.540

Wheelbase and Mahindra Verito Vibe Ground clearance in mm:

2630 and 170

Mahindra Verito Vibe Fuel Economy Km per Litre:

Diesel 20.80

Mahindra Verito Vibe Automatic Gear available?

Yes

Mahindra Verito Vibe Speed Acceleration 0 to 100 KPH seconds:

Diesel 16.07

Mahindra Verito Vibe Tyre Size:

185/70 R14

Mahindra Verito Vibe Hatchback website:

Mahindra Verito Vibe Hatchback review on Youtube:

New Mahindra Verito Vibe Hatchback review on Team BHP forum:
New Mahindra SUV XUV-500 specs and base model price in India
Mahindra SUV XUV-500
Starting price Mahindra XUV-500
Petrol: Not Available
Diesel: From ₹10,90,000-
LNG / CNG: Not Available
Mahindra XUV-500 Engine options:

Diesel 2179 cc, 4 cyl, 140 HP;

Dimensions in Meters:

Length=4.585, Width=1.890, Height=1.785

Wheelbase and Mahindra XUV-500 Ground clearance in mm:

2700 and 200

Mahindra XUV-500 Fuel Economy Km per Litre:

Diesel 15.1

Mahindra XUV-500 Automatic Gear available?

No

Mahindra XUV-500 Speed Acceleration 0 to 100 KPH seconds:

Diesel 12.34

Mahindra XUV-500 Tyre Size:

235/65 R17

Mahindra Verito XUV500 SUV website:

Mahindra Verito XUV500 SUV review on Youtube:

New Mahindra Verito XUV500 SUV review on Team BHP forum:
New Mahindra MPV Xylo specs and base model price in India
Mahindra Xylo MPV
Starting price Mahindra Xylo
Petrol: Not Available
Diesel: From ₹9,15,000-
LNG / CNG: Not Available
Mahindra Xylo Engine options:

Diesel 2489 cc, 4 cyl, 95 HP;

Dimensions in Meters:

Length=4.520, Width=1.850, Height=1.895

Wheelbase and Mahindra Xylo Ground clearance in mm:

2760 and 185

Mahindra Xylo Fuel Economy Km per Litre:

Diesel 14.8

Mahindra Xylo Automatic Gear available?

No

Mahindra Xylo Speed Acceleration 0 to 100 KPH seconds:

Diesel 12.97

Mahindra Xylo Tyre Size:

215/75 R15

Mahindra Xylo MPV website:

Mahindra Xylo MPV Vs Toyata Innova on Youtube:

New Mahindra Xylo MPV review on Team BHP forum: