SUV price under 50 lakhs in India
Please find below a list of new SUV within 50 lakhs on-road price in Bangalore, Delhi, Chennai or Mumbai. For final prices it is always better to contact local dealers for deal prices. Against each SUV of 20 to 50 lakhs price range, we have given the website link for that model of the SUV. By visiting the SUV manufacturers website you can know who is the authorised dealer nearest to you.
This page is an old version from 2016. Will be updated soon.
SUV 20 to 50 lakhs price range models in India
Click on any of the manufacturers name in the list below, and the page will jump to that particular section where all models of SUVs between 20 and 50 lakhs from that brand is listed
Top 10 SUV under 50 lakhs in India
Click on any Indian top model SUV in the table below, and the page will jump to where that particular model of SUV is listed below
SUV under 50 lakhs in India

| Car Model | Price ₹ |
| --- | --- |
| Honda CRV | 20,20,000- |
| Chevrolet Captiva | 22,33,000- |
| Skoda Yeti | 22,33,000- |
| Mitsubishi Pajero | 24,00,000- |
| Ford Endavour | 24,17,000- |
| Renault Koleos | 25,51,000- |
| Toyota Fortuner | 25,87,000- |
SUV upto 50 lakhs in India

| Car Model | Price ₹ |
| --- | --- |
| Hynduai Santa-Fe | 29,71,000- |
| Audi Q3 SUV | 30,24,000- |
| BMW X1 SUV | 35,90,000- |
| Volvo V40 SUV | 37,23,000- |
| Land Rover Freelander | 46,00,000- |
| Audi Q5 SUV | 48,05,000- |
| Volvo XC-60 SUV | 48,31,000- |
New Audi Q3 SUV models and price in India
Audi Q3 SUV
Starting price of Audi Q3 in India
Petrol: Not Available
Diesel: From ₹30,24,000-
CNG: Not Available
Engines:

Petrol 1995 cc , 4 cyl' 210 HP or Diesel 1968 cc 4 cyl 177 HP

Dimensions in Meters:

Length=4.385, Width=1.831, Height=1.608

Wheelbase and Ground clearance in mm:

2603 and 170

Fuel Economy Km per Litre:

Petrol 11.72; Diesel 15.73

Automatic Gear available?

Yes

Speed Acceleration 0 to 100 KPH seconds:

Petrol 6.9; Diesel 8.7

Turning circle Diameter in Meters:

11.8

Kerb Weight in Kg.:

1585

Tyre Size:

Size: 215/65 R16

New Audi SUV Q3 Dynamic website:

India Audi SUV Q3 Dynamic reviewed on Youtube:

Audi India SUV Q3 Dynamic review on Team BHP forum:
New Audi Q5 SUV models and price in India
Audi Q5 SUV
Starting price of Audi Q5 in India
Petrol: From ₹52,10,000-
Diesel: From ₹48,05,000-
CNG: Not Available
Engines:

Petrol 1984cc 4cyl 221HP || Diesel 1968cc 4cyl 170HP or 2967cc V6 6cyl 245HP

Dimensions in Meters:

Length=4.629, Width=1.880, Height=1.608

Wheelbase and Ground clearance in mm:

2807 and 200

Fuel Economy Km per Litre:

Petrol 11.8; Diesel 14.1(2L) or 13.2(3L)

Automatic Gear available?

Yes

Speed Acceleration 0 to 100 KPH seconds:

Petrol 7.76 ; Diesel 11.21(2L) or 6.54 (3L)

Turning circle Diameter in Meters:

11.6

Kerb Weight in Kg.:

Petrol 1760; Diesel 1865

Tyre Size:

Size: 235/65 R17

New Audi SUV Q5 website:

New Audi India SUV Q5 review on Youtube:

New Audi India SUV Q5 review on Team BHP forum:
BMW SUV X1 India price and specs
BMW SUV X1
Starting price of BMW X1 SUV in India
Petrol: Not Available
Diesel: From ₹35,90,000-
CNG: Not Available
Engines:

Diesel 1995cc 4 cyl. 181 HP

Dimensions in Meters:

Length=4.454, Width=1.798, Height=1.545

Fuel Economy Km per Litre:

Diesel 17.2

Speed Acceleration 0 to 100 KPH seconds:

8.25

Tyre Size:

225/50 R17

Turning circle Diameter in Meters:

11.3

Kerb Weight in Kg:

Diesel 1500

BMW Indian Website X1 SUV:

New BMW X1 SUV review on Youtube:

New BMW X1 SUV review on Team BHP forum:
Chevrolet Captiva new model India price and specs
Chevrolet Captiva
Starting price of Chevrolet Captiva
Petrol: Not Available
Diesel: From ₹22,33,000-
LPG: Not Available
Engines:

Diesel 2231 cc; 4 cyl 186.5 HP

Dimensions in Meters:

Length=4.660, Width=1.870, Height=1.755

Wheelbase and Ground clearance in mm:

2705 and 197

Fuel Economy Km per Litre:

Diesel 14.6 / 12.1 Automatic

Automatic Gear available?

Yes

Speed Acceleration 0 to 100 KPH seconds:

11.72 and 10.97 Automatic

Tyres Size:

175/70 R14

Turning circle Diameter in Meters:

11.6

Kerb Weight in Kg:

Diesel 1820

Chevrolet Captiva Indian Website:

Chevrolet Captiva new model India review on Youtube:

Chevrolet Captiva new model India review on Team BHP forum:
India Ford SUV Endeavour models and price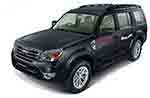 Ford Endeavour
India Ford SUV Endeavour price
Petrol: Not Available
Diesel: From ₹24,17,000-
LPG: Not Available
Engines:

Diesel (2.5L) 2499cc 4cyl 143HP or (3L) 2953cc; 4cyl 153 HP

Dimensions

in Meters: Length=5.060, Width=1.788, Height=1.826

Wheelbase and Ground clearance in mm

: 2860 and 210

Fuel Economy

Km per Litre: 12.7 (2.5L) or 10.7 (3L)

Automatic Gear available?

Not in India

Speed

Acceleration 0 to 100 KPH seconds: 13.89 (2.5L) or 12.32 (3L) or 13.77 (3L 4x4)

Tyres

Size: 245/70 R16

Turning circle Diameter in Meters:

12.2

Kerb Weight in Kg:

2014 Kg (3L)

Ford Endeavour SUV Indian Website:

Best Ford Endeavour SUV review on Youtube:

Team BHP Ford Endeavour SUV review:
New Honda CRV SUV specs and price in India
Honda CRV SUV
Honda CRV SUV starting price
Petrol: From ₹20,20,000-
Diesel: Not Available
Lng / CNG: Not Available
Engines:

Petrol 1997 cc (2L), 4 cyl, 199 HP or 2354 cc (2.4L), 4 cyl, 235 HP

Dimensions in Meters:

Length 4.386, Width=1.683, Height=1.603

Wheelbase and Ground clearance in mm:

2652 and 175

Fuel Economy Km per Litre:

Petrol 13.7 (2L) or 12 (2.4L)

Automatic Gear available?

Yes

Speed Acceleration 0 to 100 KPH seconds:

Petrol 11.53 (2L) or 10.52 (2.4L)

Turning circle Diameter in Meters:

11.08

Kerb Weight in Kg:

1600

Tyre Size:

Size: 225/65 R17

Honda CRV SUV Indian website:

Honda CRV SUV review on Youtube:

Honda CRV SUV review on Team BHP forum:
Hyundai new SUV Santa Fe models in India
Hyundai Santa Fe SUV
Starting price Hyundai Santa Fe SUV
Petrol: Not available
Diesel: From ₹29,71,000-
LPG: Not available
Engines:

Diesel 2199cc 4cyl 194HP

Dimensions in Meters:

Length=4.690, Width=1.880, Height=1.690

Wheelbase and Ground clearance in mm:

2700 and 185

Fuel Economy, Km per Litre:

14.66

Automatic Gear available?

Yes

Speed, Acceleration 0 to 100 KPH seconds:

11.1

Tyres Size:

235/60 R18

Hyundai Sonata website:

Hyundai SUV Santa Fe review on Youtube:

Hyundai Santa Fe review on Team BHP forum:
Land Rover India Freelander 2 prices and specs
FreeLander-2
Starting price Land Rover FreeLander-2
Petrol: Not Available
Diesel: From ₹46,00,000-
CNG: Not Available
Engines:

Diesel 2179 cc, 4 cyl, 148 HP or 2179 cc, 4 cyl, turbo-charged, 187 HP

Dimensions in Meters:

Length 4.500, Width=2.195, Height=1.740

Wheelbase and Ground clearance in mm:

2660 and 210

Fuel Economy Km per Litre:

12.35 for 187 HP model

Automatic Gear available?

Yes

Speed Acceleration 0 to 100 KPH seconds:

11.2 (148HP) or 9.92 (187HP)

Turning circle Diameter in Meters:

11.4

Kerb Weight in Kg:

1880

Tyre Size:

Size: 235/65 R17

Land Rover Freelander-2 SUV Indian website:

Land Rover Freelander-2 SUV review on Youtube:

Land Rover Freelander-2 SUV review on Team BHP forum:
Mitsubishi Pajero SUV price in India with specs
As of now Mitsubishi only sells in India its famous Pajeros. The Mitsubishi Pajero model for sale in India is the Pajero Sports SUV
New Indian Mitsubishi Pajero Sport SUV Cars sedan models price and specs in India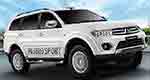 Mitsubishi Pajero Sport SUV
Petrol: Not Available
Diesel: From ₹24,00,000-
LNG / CNG: Not Available
Engines:

Diesel 2477 cc (2.5L) 4 cyl 178 HP

Dimensions in Meters:

Length=4.695, Width=1.815, Height=1.840

Wheelbase and Ground clearance in mm:

2800 and 215

Fuel Economy Km per Litre:

---

Automatic Gear available?

Yes

Speed Acceleration 0 to 100 KPH seconds:

---

Turning circle Diameter in Meters:

11.2

Kerb Weight in Kg:

1935

Tyre Size:

Size:265/65 R17

Mitsubishi Pajero Sport SUV Indian website:

Mitsubishi Pajero Sport SUV review on Youtube:

Mitsubishi Pajero Sport SUV best review in India in Team BHP forum:
New Renault Koleos top model price in India with specs
Renault Koleos SUV
Starting price of Renault Koleos SUV
Petrol: Not Available
Diesel: From ₹25,51,000-
CNG: Not Available
Engines:

Diesel 1995 cc, 4 cyl, 173 HP

Dimensions in Meters:

Length 4.520, Width=1.855, Height=1.865

Wheelbase and Ground clearance in mm:

2690 and 205

Fuel Economy Km per Litre:

17.1

Automatic Gear available?

No

Speed Acceleration 0 to 100 KPH seconds:

10.99

Turning circle Diameter in Meters:

11.6

Kerb Weight in Kg:

1794

Tyre Size:

Size: 225/60 R17

Renault Koleos Indian website:

Renault Koleos review on Youtube:

Renault Koleos review on Team BHP forum:
New Skoda Yeti India price with specs
Skoda Yet High-cube car
Starting price of Skoda Yeti in India
Petrol: Not Available
Diesel: From ₹22,33,000-
LNG / CNG: Not Available
Engines:

Diesel 1968 cc (2L), 4 cyl, with 110 HP or turbocharged 140 HP

Dimensions in Meters:

Length 4222, Width=1.793, Height=1.691

Wheelbase and Ground clearance in mm:

2578 and 180

Fuel Economy Km per Litre:

Diesel 17.72 (110 HP) or 17.67 (140 HP)

Automatic Gear available?

No

Speed Acceleration 0 to 100 KPH seconds:

11.78

Turning circle Diameter in Meters:

10

Kerb Weight in Kg:

1543

Tyre Size:

Size: 215/60 R16

Skoda Yeti Indian website:

Skoda Yeti review on Youtube by CNBC TV18:

Skoda Yeti review on Team BHP forum:
New Toyota SUV Fortuner price in India with specs
Toyota Fortuner SUV
Starting price Toyota Fortuner SUV
Petrol: Not Available
Diesel: From ₹25,87,840-26,38,000-
LPG: Not Available
Engines:

Diesel 2982 cc, 4 cyl, 171 HP

Dimensions in Meters:

Length 4.705, Width=1.840, Height=1.850

Wheelbase and Ground clearance in mm:

2750 and 220

Fuel Economy Km per Litre:

Diesel 12.55

Automatic Gear available?

Yes

Speed Acceleration 0 to 100 KPH seconds:

12.9

Turning circle Diameter in Meters:

11.2

Kerb Weight in Kg:

1885

Tyre Size:

Size:265/65 R17

Toyota Fortuner SUV Indian website:

Toyota Fortuner SUV review on Youtube:

Toyota Fortuner SUV best review in India on Team BHP forum:
New Indian Volvo V40 Hatchback car models price and specs in India
Volvo V40 Hatchback
Petrol: Not Available
Diesel: From ₹37,20,000-
CNG: Not Available
Engines:

Diesel 1984 cc (2L) 5 cyl 148 HP

Dimensions in Meters:

Length=4.370, Width=1.857, Height=1.473

Wheelbase and Ground clearance in mm:

2646 and 155

Fuel Economy Km per Litre:

Diesel 19.2 (2L)

Automatic Gear available?

Yes

Speed Acceleration 0 to 100 KPH seconds:

Diesel 9.5 (2L)

Turning circle Diameter in Meters:

10.9

Kerb Weight in Kg:

1578 (2L)

Tyre Size:

Size:225/50 R17

Volvo V40 Indian website:

Volvo V40 review on Youtube:

Volvo V40 best review in India in Team BHP forum:
New Indian Volvo XC60 offroader SUV models price and specs in India
Volvo XC60 SUV offroader
Petrol: Not Available
Diesel: From ₹48,31,000-
CNG: Not Available
Engines:

Diesel 1984 cc (2L) 5 cyl 181 HP or Diesel 2400 cc (2.4L) 5 cyl 215 HP

Dimensions in Meters:

Length=4.644, Width=1.891, Height=1.713

Wheelbase and Ground clearance in mm:

2774 and 230

Fuel Economy Km per Litre:

Diesel 14.7 (2L) 13.8 (2.4L)

Automatic Gear available?

Yes

Speed Acceleration 0 to 100 KPH seconds:

Diesel 9.75 (2.4L)

Turning circle Diameter in Meters:

12.1

Kerb Weight in Kg:

1921

Tyre Size:

Size:235/65 R17

Volvo XC60 Indian website:

Volvo XC60 review on Youtube:

Volvo XC60 best review in India in Team BHP forum: